Ashley Spice Coffee Table, LIMITED STOCK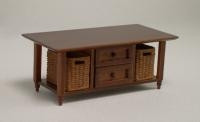 Description
This is a very stylish coffee table finished in a spice stain. The piece has two recessed panel working drawers with matching wood knobs in the middle with open shelves on both ends. Two removable faux "wicker" baskets (made of resin) with open hand-pulls are included. Use the baskets on the shelves or remove them and add a plant, magazines, etc. on the shelves.
Table: Length: 4", Height: 1-5/8", Width: 2" (Shelves have 1-1/8" clearance)
Baskets: Width: 11/16", Height: 7/8", Depth: 1-5/16"
Reviews