Miter Box, Small, Plastic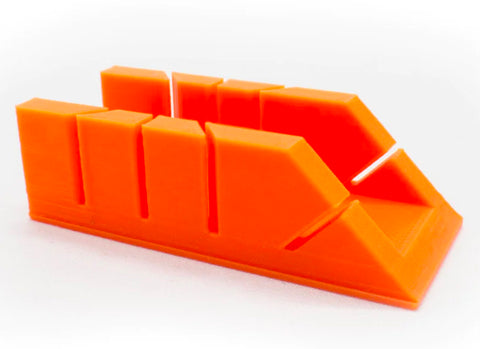 Description
This is a small miter box made of plastic. 
Measures: .750"H x 1.063"W x 2.500"D

Pros: Small, inexpensive, light weight, portable, great for a traveling miniature making kit, offers an additional cut direction to more easily chamfer a picture frame. If you have to frame a lot of pictures or cut tiny wood strips for a furniture project this won't swamp them or leave you struggling to hold your tiny wood in a large miter box. 

Cons: The plastic scores with a miter saw, limited width for cutting. This will not hold up for long term use. It cannot be secured to a surface. It will move under cutting pressure, however, a non skid surface could easily be added to the bottom. We would not recommend for everyday use.

Conclusion: Great traveling tool for classes, occasional small projects, and thinner woods. We would not recommend it for making Dollhouses, heavy use, or larger projects. However, for those random small projects, tiny strips of trim, or if you have limited space/weight for traveling to a class? This could be a real project saver.
Reviews