Slat Bedroom, Three Piece Set, Gray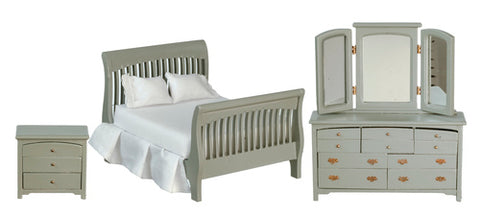 Description
Looking for a more contemporary style of bedroom for your dollhouse?  Check this one out!
We do not carry this set in the store, but you can order it online. 
This is set is done in 1:12 Scale, but do pay attention to the dimensions to make sure it will fit your needs.
Bed measures 5 1/8"W x 6 3/4"D x 4 3/4"H
Dresser with mirror: 5 3/4"W x 1 1/2"D x 6 1/2"H
Night Table: 2 5/8"W x 1 1/2"D x 2 1/2"H
Reviews