Faux Wrought Iron Fence, White, 2pcs.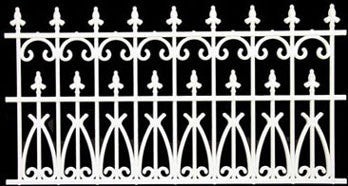 Description
Don't let the word plastic scare you away - this is a great product. Comes with two pieces, each measures 6 x 3 1/2. You can cut it down to make a short fence - we do that lots of times. You can paint it any way you want - we have seen it done in a really authentic looking vertigree finish.
We often cut it down and use as window grate, or just the very top trim for roof trim.
Reviews