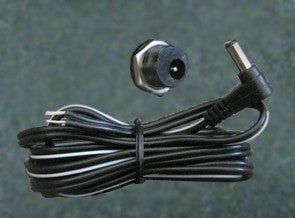 Description
This is one of the best darned new products for dollhouse lighting in years! No temperamental Junction Splices, no more unsightly terminal blocks - this is the best new way to supply power to a dollhouse! Local Pittsburgh customers, we have a working sample on display for you.
Power Jack and Plug Set makes the connection from your power supply to dollhouse wiring. This equipment is secure, durable, and unobtrusive - making it the best way to supply power to a dollhouse. The Power Jack is glued into a 1/2 inch hole in the foundation and connects to the dollhouse wiring with solder or electrically conductive glue.
Supplies you will need:
Short piece of wire (24 to 28 gauge) like "speaker wire"
Soldering supplies or electrically conductive glue like "Wire Glue"
EL-66 Electrification Tool for making eyelet connections to the house wiring
Power supply sized for the electrical needs of the house
Comes complete with detailed instructions for installing.



Reviews