Shingle Dye, Reddish Brown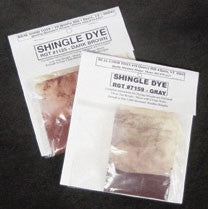 Description
Dark (Reddish) Brown Shingle Dye Water Soluble, Covers up to 1000 shingles.
Dollhouse Shingle Dye Features:
Formulated to provide an easy way to dye the shingles for your dollhouse. The shingles will dry to a mellow gray with slightly shaded variations. The depth of color is controlled by the amount of water used, the soak time, and the "heap" of shingles as they dry. The package is 1/2 oz. net weight and mixes with 2 cups of water, which is enough to dye 1000 miniature wooden shingles. Complete instructions for dying the shingles are enclosed. Keep out of reach of children.
Reviews