The Olivia Model, Unfinished, Special Order Only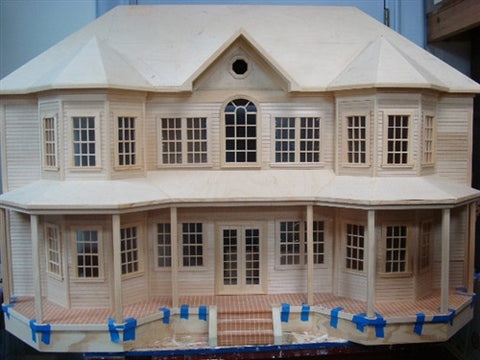 Description
This model must be special ordered as they are custom made. A 50% Deposit is required. Please allow 4-6 months for completion. The original finished Olivia Dollhouse is currently on display at the Lynlott Miniatures Store in Pittsburgh, PA.
Measures 48 across x 28 Deep x 35 inches High.
This is the third and modified edition of our very own "Olivia" Dollhouse, designed and built for our daughter. With this edition, the ceiling height has been raised on both floors, and the center window on the second floor has been replaced with a larger Palladian Style window. This price includes the assembled model, all windows and doors, Split level stairway, two-way raised fire place into the sunken living room with two double French Doors (This is the living room I was always drawing while in my social studies class in fifth grade.....sorry Mrs. Thompson, but you were still one of the greatest teachers of all time!)
***Genuine Clay Tile Porch and Front Steps can be installed for an additional $175.00
Painting, shingles, wiring and finishing work can be arranged for additional charges. We have included a few images of what a finished Olivia Dollhouse can look like.
Arrangements can be considered to have it delivered by us within a travel distance of under 6 hours for a fee.
Estimated Shipping Cost to have this home crated and freighted to any destination in the US is approximately $600.00 - please inquire. We use a local company, experienced with shipping fine art and antiques, fully insured.
Reviews