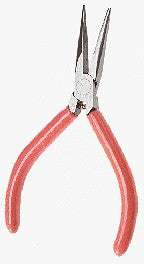 Description
Excellent for holding and inserting 1/8" brass brads in the various tape installation steps, these pliers have proven to be one of the most convenient tools available to the tape wiring installer. No other pliers have the grip and positive feel this one possesses.
Made from special heat-treated steel, the pliers have serrated teeth on both jaws, a self-contained spring for easy opening and plastic-coated handles for comfortable holding. Good for a hundred and one different uses. A "must" for any mini-electrician!
Product style may vary.
Reviews