Ultimate Flickering Fireplace Unit 20% OFF!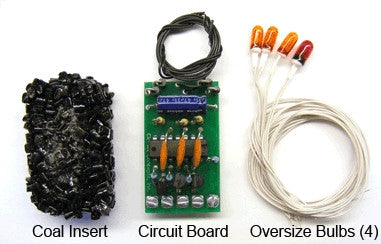 Description
 The new CK871 Ultimate Flickering Fireplace Unit has been designed to provide the most realistic flickering fire effects available anywhere. Its features create a natural, true-to-life fireplace flicker and not the usual on/off operation. In other words, no more flashing, just a gentle realistic flicker to put warmth and glow into your fireplace and lights.
The unit comes with four bulbs; three flicker and one constant. Each flicker bulb is controlled by a separate electronic circuit, thus creating its own independent flash rate. The supplied bulbs can be installed either in the supplied coal insert or used separately in an existing fireplace. 
The included bulbs are oversize to provide the maximum possible light output and are attached with screws for easy removal and replacement; Not soldered in place.
Operates from dollhouse power (either 12VAC or 12VDC) and is guaranteed not to flicker other dollhouse lights.
Small circuit board size (1"W X 1 3/4"L X 3/4"H) allows easy concealment.
Complete installation and operation instructions are included with each package.
We have used this product ourselves, with very satisfactory results - VERY realistic! We have used it with both log and coal fireplace settings.
(CK0871 az)
Reviews