Assembled and Finished Vermont Farmhouse Junior With Extensions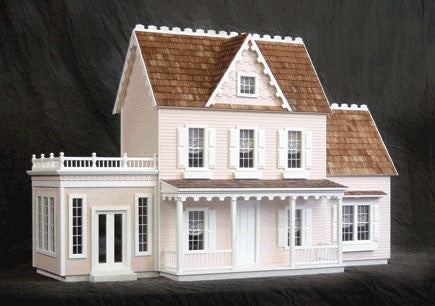 Description
Local In-Store pickup only.  Please allow 4-9 weeks for completion. We welcome different color options for paint and shingles - just let us know - Lynlott Miniatures and Dollhouse Junction of Pittsburgh, PA is here to build the dollhouse of your dreams!
This is made from the Vermont Farmhouse Junior Kit from Real Good Toys with Two separate extensions, which can be removed and reattached. This house and the additions are also available in kit form.
Measures: 44 inches across by 16 1/2 deep. 10 Rooms!
Please Note: This dollhouse would be quite expensive to ship.  We would need to charge exact cost of having it crated and shipped.  Ideally you would want to pick it up in person or have someone arrange to do so for you.  However, if you are prepared to pay between $500.00 and $1200 for continental US,  feel free to inquire.  Destinations West of the Mississippi can be cost prohibitive. 
For Store Pick Up ONLY. If you are from out of this area, we suggest you order directly thru Real Good Toys for best shipping prices.
Reviews